For many homeowners and businesses alike, annual cleaning, purging, and scrubbing ceremonies coincide with the arrival of warmer weather and the first green shoots of spring. Naturally, everyone rushes outside to clean the coils on their air conditioners. Right? Well, maybe that's not the first thing that comes to mind for most of us, but when you think about all the advantages of cleaning your air conditioner, it should be added to the list.
A minimum of once a year in the spring, before the heat of the summer, should be spent cleaning air conditioning units to ensure their maximum performance. Cleaning with a high-quality ac cleaner will benefit units of all sizes, from residential to industrial.
Best AC Cleaner for AC Coils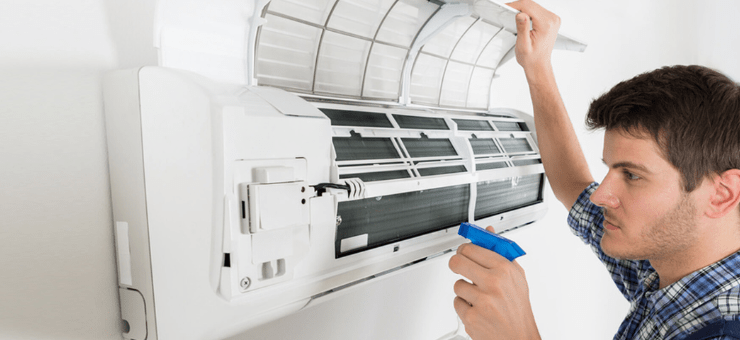 Evap Foam No Rinse Coil Cleaner by Nu-Calgon
Oils, grime, and other pollutants from the evaporator coil are helped to dissolve by the self-rinsing coil cleaning Nu-Calgon Evap Foam. This ac cleaner also aids in eliminating the musty, moldy smell from your air conditioner. This powerful coil cleaning is non-corrosive and biodegradable. It is suitable for home and commercial air conditioning units and safe on all kinds of coils. It is simple to use and comes in an 18-ounce aerosol container. Spritz the coil with the cleanser, then give it time to dry. The coil doesn't require rinsing after cleaning.
Frost King Foaming Ac Cleaner
The ACF19 Foam Coil Cleaner is one of the greatest coil cleaners that Frost King offers to meet your demands. This cleaner can be used on any air conditioner, whether window air conditioners or central HVAC systems, and it is intended for use on condenser and evaporator coils. It is available in a handy 19-ounce can and may be sprayed straight into the coils. To get rid of dirt, dust, and grime, the foam sticks to the coils and deep into crevices. Additionally, a rust inhibitor is included to prevent corrosion on your coils.
Before using this ac cleaner, some people advise wetting or rinsing the coils, but we have discovered that this is not essential. Spray the cleaning on and wait a few minutes. Afterward, if wanted, wash it off with water.
Evaporator coil cleaner by ComStar
The ComStar Evaporator ac cleaner is a self-rinsing, non-toxic coil cleaner designed to clear your coils of dirt, dust, and other debris. Because of its full recipe, you need to use a small amount to clean your coils. Mix ComStar Evaporator Coil Cleaner with a gallon of water and spray the solution onto the coils to use it. After about 10 minutes, let it sit before rinsing it with fresh water (optional). The coils can also be scrubbed with a brush if they're filthy.
The ComStar Evaporator Coil Cleaner is an inexpensive solution to maintain the cleanliness and effectiveness of the coils in your air conditioner. You don't need to be concerned about damage because it is also safe to use on copper and aluminum.
Condenser Coil Cleaner Nu-Calgon Nu-Brite
The greatest foaming detergents are used in the formulation of the non-acid, alkaline Nu-Calgon Nu-Brite Condenser Coil Cleaner to quickly penetrate and dissolve greasy filth and grime buildup. It not only foams like an acid, but it also brightens. You may feel good using this cleaner because it is biodegradable and has a light citrus aroma. Additionally, because Nu-Brite is safer than acids, it is perfect for use in federally inspected meat and poultry establishments.
Nu-Calgon When using the concentrated cleaning Nu-Brite, you must dilute it with water before applying it to the grime. Please wait a few minutes, then rinse it with fresh water. Remember that Nu-Calgon should not be used within or on evaporator coils.
Benefits Of Using Ac Cleaners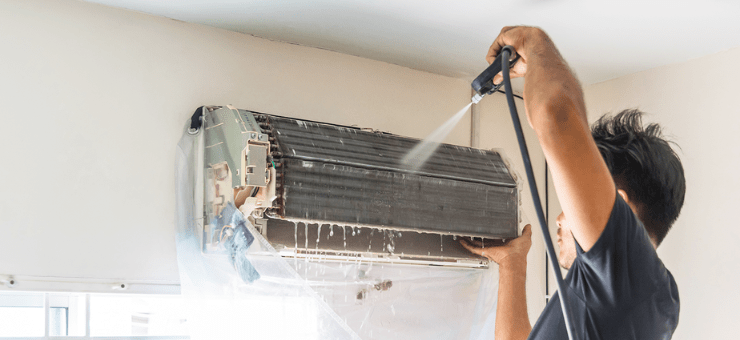 Keeping AC units clean lowers electricity costs
Air conditioner condenser coils release hot air from a building's interior into the atmosphere. The unit works harder and consumes more energy to accomplish the same level of cooling when condenser coils are unclean, dusty, oxidized, or obstructed with debris, potentially costing your company hundreds or even thousands of extra dollars in power annually.
Unproductive debris and oxidation on air conditioning coils are eliminated using a solution like ac coil cleaner. Air circulates more freely, AC systems run and cool more effectively, and the unit uses less electricity when the fins and coils are clean.
Spend less on upkeep and repairs
Fewer unit repairs translate into lower out-of-pocket costs for businesses and less headache and staff time spent on the repairs. This is a double "save" because time equals money.
Utilizing a spray-on cleaner like Coil Cleaner makes cleaning air conditioning equipment simple. Depending on your unit's setup, you might need to take the cover off. Additionally, since the Coil Cleaner can typically reach and clean coils and fins from outside spraying, there is no need to disassemble the machine. The job takes 5 to 10 minutes for a small unit. Larger units require a little more time.
Keeps parts from getting too cold
In addition to removing grime, an air conditioner chemical wash also keeps portions of your unit from freezing over. Certain components are more prone to freezing, especially if the refrigerant and other cooling elements aren't properly maintained. These frozen parts can cause the entire equipment to malfunction and can be extremely expensive to replace. You can prevent the coils and pipes from freezing by cleaning out your air conditioner and ensuring they are free of debris.
Units endure longer and require less frequent replacement
When air conditioners don't have to work as hard, they survive longer, putting off the cost of buying a new unit and ultimately saving a lot of money. "An ounce of prevention is worth a pound of cure," said Ben Franklin. While it may be evident that equipment would live longer with regular, preventative maintenance, it may not be as obvious that routine cleaning is a type of maintenance that prolongs the life of AC units.
Conclusion
It's crucial to clean the coils of your air conditioner, but far too many people fail to do so. It can add years to the lifespan of your AC in addition to keeping it operating efficiently. You may use a variety of cleansers to clean your AC coils, and we've included a few of our recommendations here. Therefore, start caring for your unit's coils right away, and don't wait until it malfunctions to do so.