The UAE's highest temperature ever recorded was a scorching 52.1 degrees Celsius, which speaks volumes about how brutal Dubai's summers can be. Even though most rooms have air conditioning, some spots never get cool air. So, how can you maintain their coolness? Here is our ranking of the top Portable AC Dubai on the market.
Why Opt for a Portable AC Unit?
A Portable AC can considerably reduce a room's temperature in less than 20 minutes. The drawback of portable air conditioners is that they are not energy efficient, even though they are your best alternative when other air conditioners are not appropriate. This unit is ideal for places like maid's rooms, children's rooms, offices, saloons, and tiny outdoor areas since it provides targeted cooling and has a small design.
Our Top Picks For The Best Portable AC Dubai
1- Midea 10,300 BTU 115V Smart Portable AC   
  
There are a few options that compare to the Midea 10,300 BTU model for a room that is roughly 450 square feet. It performs three tasks: dehumidifies, fans, and cools. Its evaporative technology, equivalent to a 44-pint dehumidifier, is welcome. But with its numerous control choices is where it starts to shine. In addition to having electronic and remote controls, it can also be controlled and managed using the MsmartHome app. For voice activation, you could also attach it to Google Assistant.
One minor disadvantage is that the humidifier needs to be vented outside. A window opening must be at least 19.4 inches wide, 62.2 inches wide, and 6.4 inches high. A kit for quick and simple installation is included with the unit.
2- LG 10,000 BTU 115V Portable AC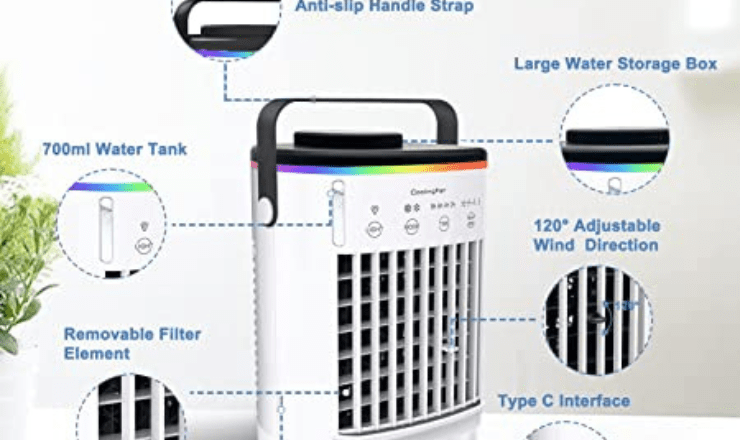 Although this choice could be more expensive, you get what you pay for. It includes all of the functions you might anticipate and sophisticated technology that offers flexibility and energy economy. With two speeds and three modes—cool, fan, or dry—cooling is provided. While dehumidifying, cooling will lower the air's temperature; however, you should set it to the dry setting on wet days. Fans are utilized to circulate the air in the space without first chilling it.
The item is lovely and will suit any contemporary house or apartment. The sizes of the units are 10,000 and 14,000 BTU. This has the cooling capacity to chill a 350–450 square foot space and is comparable in size to a compact window air conditioner.
The unit is very simple to operate. In addition to having an LCD remote, it also incorporates LG ThinQ functionality, which enables voice control with Alexa or Hey Google. If not, it features a user-friendly control center on the device.
3- WestPoint 12000 BTU 1 Ton Rotary Compressor Portable AC Unit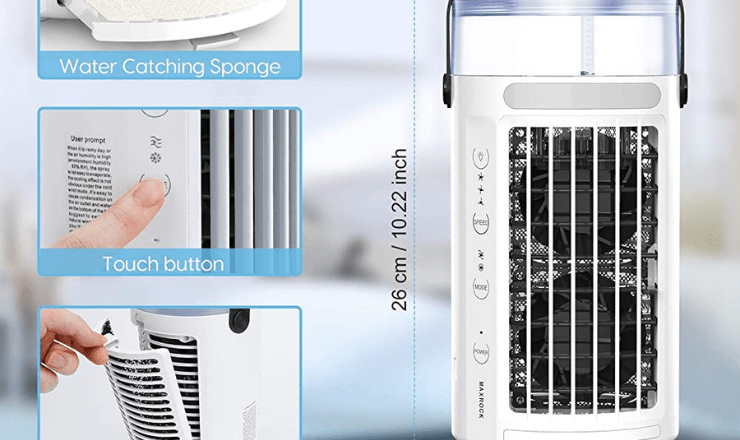 WestPoint is a reputable, high-quality producer of HVAC systems for both homes and businesses. They produce a variety of portable units, as well as wall- and window-mounted split variants. Even though this 12,000 model BTU is the biggest, they also have smaller 9000 BTU variants. The energy efficiency built into WestPoint products is one of the main draws. Their entire product line features a smart on/off standby function. As a result, energy output will be reduced by 90%, from the typical 5W to 0.5W.
Although the units are just good, they offer a lot of extras that can help filter and purify your air. Internal self-evaporative systems will lower humidity and moisture buildup. Pollen and other allergens will be removed by built-in sufficiently high air filters (HEPA), making the space more comfortable for everyone inside.
4- Gree 5,000 BTU Portable AC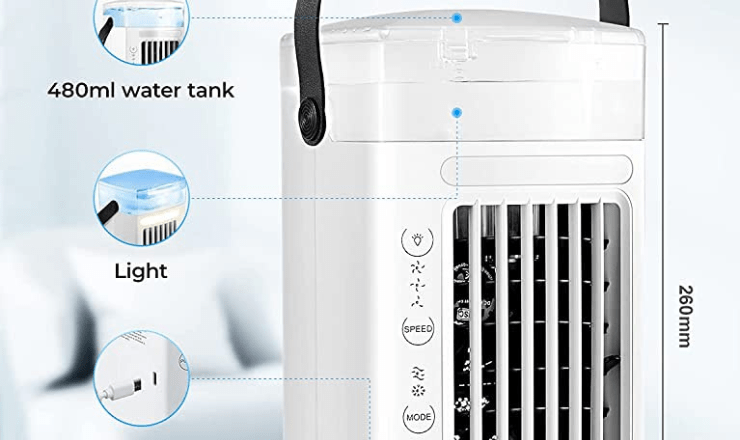 The Gree 5,000 BTU is a fantastic, portable, and sturdy item for a smaller portable AC in Dubai. It provides cooling capabilities for rooms up to 150 square feet and dehumidifying capabilities of up to 2.3 pints per hour. Additionally, there is a fan option and three different speeds for the entire device. Because it lacks incorporated revolutionary technology, unlike more expensive models, you can save a lot of money if this is something you are not interested in. Instead, the device is controlled by a clear LED digital display with a timer, sleep, and auto functions.
Additionally, you can set it up as soon as you get it. Although you must vent it out a window, the gear provided to assist you is effective and simple to use. It also contains a washable and detachable mesh filter for maintenance.
5- GE Smart 10500 BTU Portable AC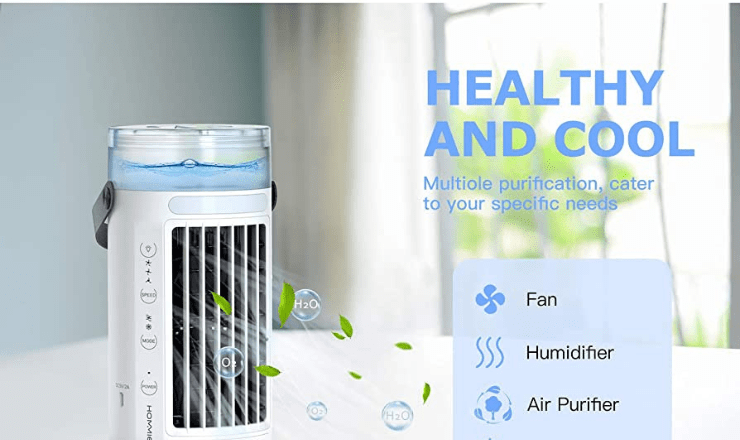 This device is fairly economical, but General Electric has packed a lot of functions into it. It can chill a space of up to 450 square feet with 10,500 BTU. Surprisingly, at this cost, it even includes easy-to-use sophisticated controls. It has three functions, similar to many larger appliances: a three-speed fan, a cooling unit, and a dehumidifier. You won't need to drain any excess moisture from the unit because it will often evaporate. For better performance, a second kit can convert it from one duct to a dual pipe.
Also easy to use are the controls. Through the Smart HQ app, you can command it and schedule, monitor, and manage output. You may control it from any part of the room with remote control and LED controls if you choose to keep things simple. As if that weren't enough, the unit also has several additional features. It is remarkably easy to use and maintain because of features including a detachable, washable filter, mobile wheels, and a 24-hour on/off timer.
Conclusion
The portable air conditioning unit that best fits your room's dimensions and budget can then be chosen. When purchasing an air conditioner, do your homework on the models first to ensure that you only pay for things you want to utilize. The first place you should go in the UAE for any employment, services, or other requirements is Dream Cool ACs. Reading our essay about AC installation lets you stay cool when you arrive.
FAQs
Which portable air conditioner is the finest in the UAE?
The best portable AC unit in UAE is the one that satisfies your requirements and price range. Do your study before buying a portable air conditioner because many excellent models are available.
Is water required for portable air conditioners?
No water is required for portable air conditioners. They can be utilized in any space, even if there isn't a water source nearby, because they use refrigerant to cool the air.
What advantages do portable air conditioners in the UAE offer?
A portable air conditioner in UAE is an excellent way to cool down a room without having to install a central air conditioning system. Additionally, portable air conditioners are far less costly than central ones.