Due to increasingly severe climatic conditions, heat is rising day by day. Previously a luxury, air conditioning is now a requirement. In hotter parts of the world, you can't fathom your existence without it! Can you picture yourself in a sweltering room with no access to an air conditioner? Boom! Whatever you were doing before will be disturbed at some point.  For this reason, Dream Cool AC fixing Dubai is here to solve all your problems.
There is nothing better than this if you pay monthly or regularly for your air conditioner to detect mistakes or any other type of trouble. If you neglect to pay attention to routine AC maintenance services, you are inadvertently saving the significant sum that you had to invest just once. It will spare you a considerable loss. While they work, our efficient and trained AC technicians will make you feel at home. Prepare to benefit from our most significant, enduring, and efficient split AC indoor unit fixing services.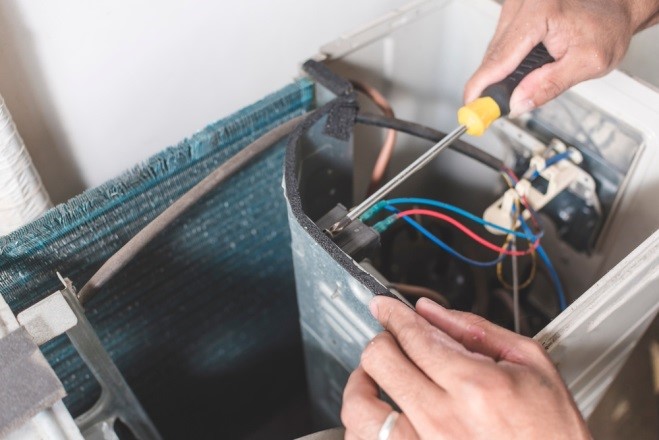 Our AC fixing And Repairs Include:
1 – Unit Condenser
The condenser unit controls the air conditioner's refrigerant using closed circuits.
Between the condenser and the furnace, refrigerant is continuously pumped.
Whenever the condenser unit experiences an issue, your air conditioning system's performance is compromised.
Have our fixing AC specialist examine the condenser unit if:
Any reduction or compromise to the AC cooling system
The air in the room and the air coming from the AC unit are same.
The AC unit may not turn on or appear to be broken.
2 – AC duct
Your air conditioner's efficiency may ultimately be harmed, requiring more comprehensive repair, due to the fact that air ducts are disseminated throughout the house and there is always a possibility of a leak or other damage. You require an air duct expert for your AC if:
Ineffectiveness of the AC
Growth in energy costs over time
Reduced level of indoor air quality
Your AC's prolonged or inefficient running cycle
Systems for Furnaces and Air Conditioners
The furnace is the heart of both the heating and cooling systems. The whole performance of your AC unit will be affected by any furnace problem. For furnace maintenance, contact our AC technician if you observe the following, and we will fix it:
The air conditioner smells strange or makes odd, weird noises.
Ice on the evaporator coils
Filters for air are soiled
Stopped or stuck fans and motors
A heat exchanger that is broken
AC fixing Dubai by Dream Cool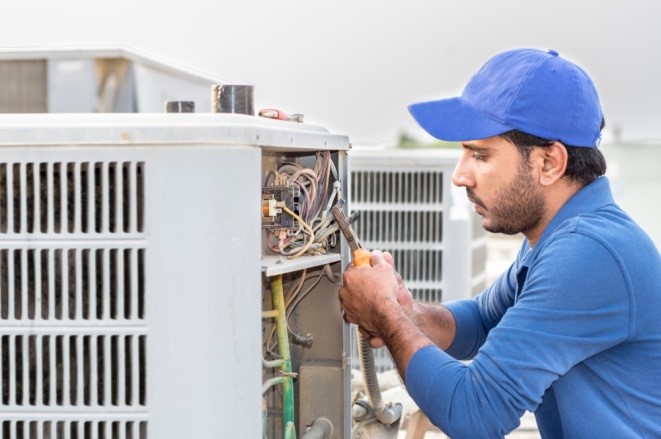 1 – An Evaluation of Cooling Efficiency
Our AC fix team will thoroughly evaluate your unit's cooling effectiveness using a temperature gun.
2 – AC Parts: Inspect And Clean
To ensure appropriate functionality, each piece of hardware inside the AC units will go through rigorous testing. Additionally, upon request, we can inspect and sanitize all drainage lines, vents, and AC filters in addition to providing before and after photos.
3 – Assessment of Fans and Evaporators
We'll make that the fan is operating correctly and that the evaporator coil is clear of obstructions.
4 – Temperature Control Check
To make sure your house is kept at the desired temperature, we use a laser temperature sensor to evaluate the performance of the thermostat.
5 – Assessment of the Airflow Balance
We'll ensure you have enough airflow in each room, diverting it where needed through separate vents.
6 – Reviews For Customers
After the service, our staff gives you feedback on essential details on the condition of the AC system, any work done, and any recommendations for additional maintenance or repairs.
Conclusion
Our skilled HVAC service professionals provide high-quality air conditioning repair services. This means we have the knowledge, expertise, equipment, and most recent technologies to handle HVAC issues correctly the first time. For your peace of mind, we offer 100% written guarantees on all of our ac repair services. The best air conditioning repair, supply, installation, and maintenance services are available for all brands of air conditioning equipment in Dubai. Dream Cool AC is your first choice in split AC fixing and repair.
FAQ's – Frequently Asked Questions
How frequently should the AC filters be changed or cleaned?
Unless the AC filters entirely quit working, they shouldn't need to be replaced. Two or three times a year would be sufficient to thoroughly clean and maintain the device. Regular filter cleaning, roughly every other day, becomes necessary if the system is exposed to a dusty or highly polluted environment.
Does an AC unit also produce hot air in addition to cool air?
During the chilly months, all modern air conditioners also provide hot air. These units are more affordable than any other heating system or equipment.