Dream Cool offers top-notch skilled experts to the city and its surroundings as one of the leading providers of AC Maintenance Company in Dubai. We provide excellent, expert services to every one of our consumers at reasonable costs. Our proficiency in putting in, fixing, and caring for installed and portable air conditioners in industrial, commercial, and residential areas. To ensure you receive top-notch service every time, Dream Cool offers free inspection and survey services.
While offering continuing ac maintenance Dubai service, including emergency repairs, we pledge to deliver outstanding value. In addition to having years of industry expertise and being licensed professionals, our specialists will treat your property with the utmost care and accuracy as if it were their own.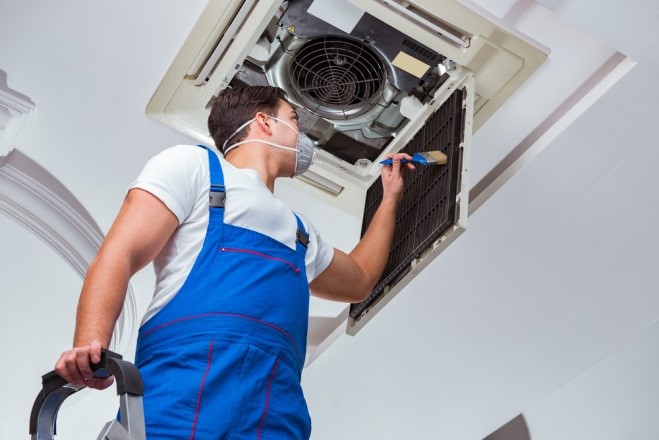 What Do We Offer?
Dream Cool provides comprehensive diagnostic, troubleshooting, and repair/replacement services for air conditioner units. Troubleshooting and AC fixes are frequently carried out during the first visit to address air conditioning issues.
HVAC repair
Dust removal
Maintenance of AC
AC Cleaning Services
HVAC Installation
HVAC system
Split AC
Problems With Air Conditioners In Dubai
1 – Performance Issues
The air conditioning system will continue to operate at its best if the device is frequently serviced. Lack of maintenance causes a unit's air conditioning system to become clogged with filth, making it impossible to breathe in and out.
2 – Water Leaks
Air conditioners frequently leak or excessively drop water. If you've noticed this, your unit probably hasn't received periodic maintenance, or the condensate pump has collapsed. In either scenario, the fix is straightforward and shouldn't take more than an hour.
3 – Inability to Cool
This problem, which many homeowners occasionally experience, might be caused by either dirty filters that prevent cool air from entering the building or chilled water strainers that are stopped by grit or sediment in the water.
4 – No Voltage
If your air conditioner doesn't turn on, a tripped fuse can be the cause. If it isn't, one of our technicians will visit to review the area and identify the issue. For you to fully understand the cost and time involved with the repair, we will provide you with a price before beginning.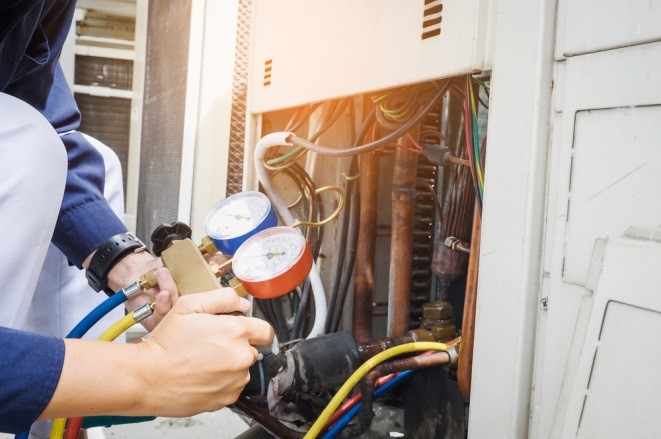 Home Maintenance Service Dubai By Dream Cool
Dream Cool provides the most affordable and the best ac maintenance Dubai and repairs services. We provide the finest AC services for maintenance and repairs in Dubai, which are listed below. As a certified HVAC and the best electrical maintenance company in Dubai, we check the heating and cooling system for:
1 – Thermostat Inspection
To confirm the status of your thermostat, Dream Cool air conditioner maintenance Dubai ensures the thermostat is installed far from any heat sources and is operating correctly.
2 – Checking The Electrical Connections:
During the repair inspection, it is made sure that all electrical connections are firmly attached and that every component is running securely. This procedure extends the air conditioner's lifetime and eliminates any potential electric hazard.
3 – Making The Working Parts Lubricated:
Our professionals at Dream Cool grease all moving components while doing AC repair and maintenance anyplace in Dubai. Increased resistance, heat, damage, and expense result from a lack of lubrication
4 – Lines For Condensation Drainage:
Although condensation is essential for AC to operate, water shouldn't continue to accumulate in the clogged drain. Lack of cleaning of the drain pipes could result in moisture issues, bacterial growth, and water leakage in the HVAC. Our professionals at Dream Cool AC maintenance Dubai, therefore, take extra care to ensure that all the drain pipes are cleansed.
5 – Upkeep of Air Filters:
The air filters might stop the air conditioner's airflow from functioning smoothly if left unclean and clogged. Along with filter cleaning, we occasionally suggest upgrading to superior filtering systems.
Conclusion
We pledge to provide comprehensive, effective, and efficient management of all your HVAC systems as a competent and certified provider of AC repairs and Ac maintenance services. Serving Dubai's residential and commercial buildings is a priority for our team. These advantages come from routine AC maintenance:
Extended equipment life
Significantly reduced maintenance expenses
Ensuring that warranties are respected and asserted as necessary
Frequently Asked Questions – FAQs
1 – How Frequently Do I Need AC Maintenance?
While household air conditioners that are used sparingly throughout the day or during the height of summer only require an annual inspection. Commercial and office air conditioning units should undergo a thorough examination every three months or as needed. This is particular to server rooms, which require three annual inspections. Additional service checks can be carried out whenever requested in locations more susceptible to pollutants and toxins.
2 – How Do I Locate The Best System For Me?
Let an expert in air conditioning assist you in selecting the best heating and cooling system that will fit your residential or commercial units.
3 – Even If The Equipment Is Covered By A Guarantee, Do I Still Require Maintenance?
Only if something goes wrong with the AC unit will you require maintenance and repairs. Regular inspections entail simple examinations to guarantee that any unforeseen defects in your air conditioner are avoided. Warranty claims may be made in cases of failure, total replacement, or significant repairs that may be prohibitively expensive.